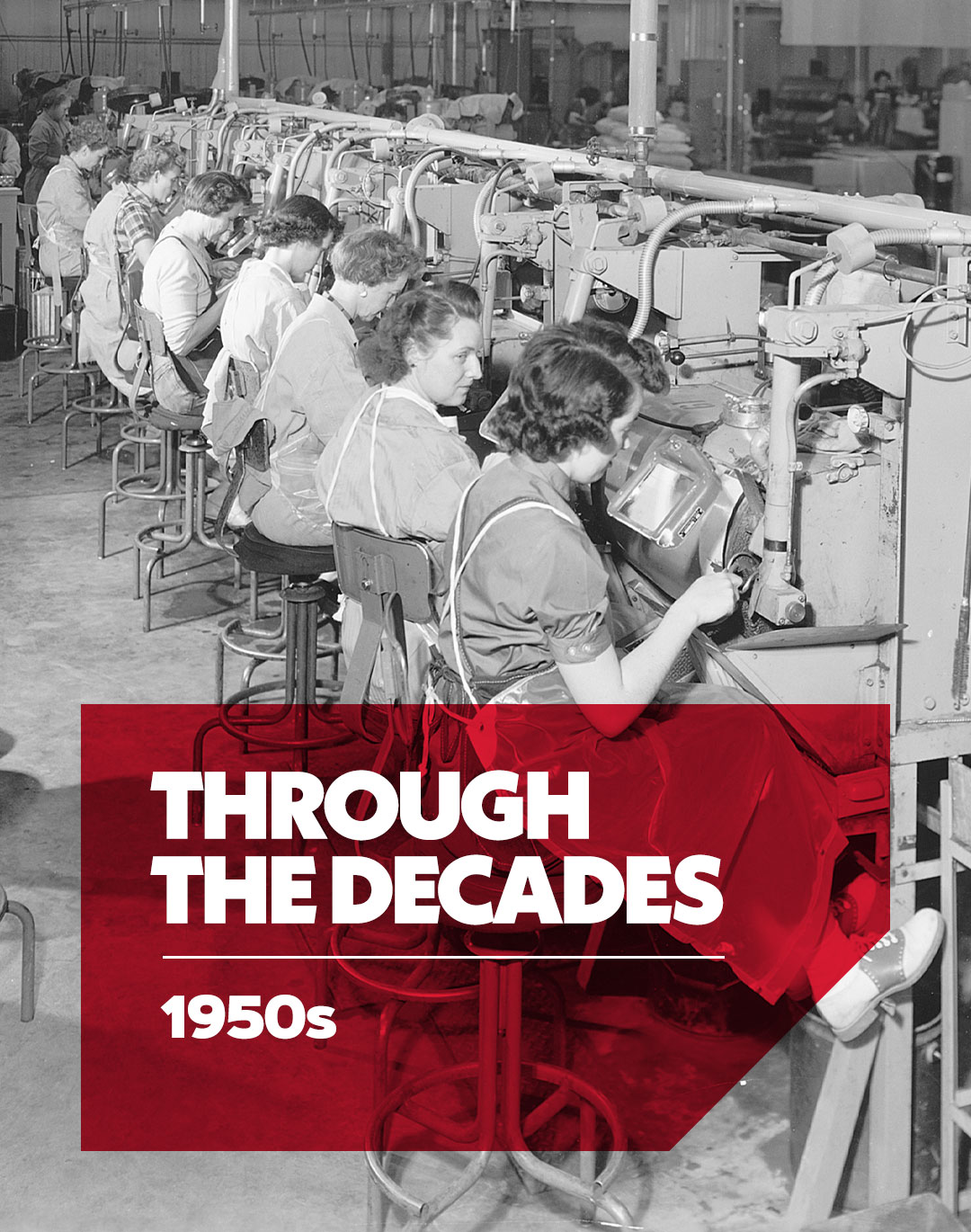 A History of Oregon Tool, Inc. through the 1950s
THE 1950s: NEW DEVELOPMENTS
As we learned from our last post, the late 1940s were an exciting time for pioneers like Joe Cox and the Wood brothers. They established new companies based on innovative products with the power to turbocharge entire industries. The world was changing fast, and given the post-war boom in the American economy, the 1950s would only see an acceleration in their output.
On May 23, 1950, the patent for the Cox Chipper Chain was officially certified.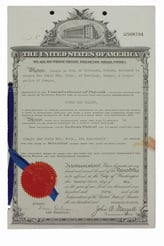 The next year, sales topped $1 million, and Joe Cox had to move operations to a 22,000-square-foot plant on SE 17th Street in Portland, OR. The product line was expanded to include guide bars and other chainsaw parts, and soon there would be a full line of chipper chains in various pitches. By 1955, sales reached a whopping $7 million, and operations had to be moved yet again, now to a new location on SE McLoughlin Boulevard in Milwaukie, OR.
At 66,000 square feet, the McLoughlin plant tripled the size of the 17th Street plant. Another new facility was built on Johnson Creek Boulevard to house the engineering and purchasing departments. New products were being developed. "Chisel chain" types would enhance the lineup, with 34 configurations. And in 1958, after a $200,000 research and development program, the "Micro Bit" took the original Cox Chipper Chain to a whole new level.
A DECADE OF EXPANSION
But amid this wave of new developments, the Oregon Saw Chain Corporation wasn't only expanding in Portland; a new manufacturing plant was also under construction in Ontario, Canada, a location that would serve the company for the next ten years. Accessories for saw chain maintenance became an integral part of the product line. And in 1953, Joe Cox would pass the reins to John Gray, whose business savvy would soon bring Oregon® branded products to Scandinavia and beyond.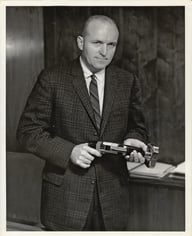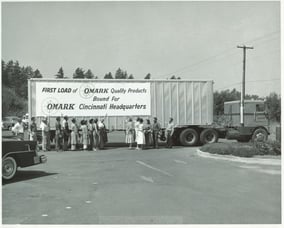 The little outfit that began production in the basement of a Portland home on 33rd Avenue had exploded into a multinational corporation, widening its footprint and changing its name to Omark Industries. But to the hardworking people who used its products, the original Oregon Saw Chain Corporation (now known as Oregon Tool, Inc.) was always more than a company. It was an imprint, a standard, a seal of approval. It was the promise of innovative, game-changing products that were made with true craftmanship and of the finest materials. And it would always be the driver behind the Oregon® brand.
ANOTHER BRAND ON THE RISE
Meanwhile, the Wood brothers, Leonard, Keith and Mervel, had their own flurry of advancements.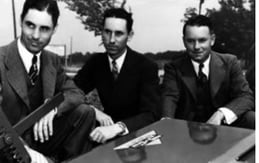 They began the decade by adding a new factory to their facilities in Oregon, IL, one that could house a 100-ton press brake, the largest machine in their shop. The Wood Brothers Manufacturing Co. employed 20 people, with Leonard acting as super
visor. In 1954, they introduced the Model 42C, a 42-inch under-mount mower fit for a tractor. A few years later, they outdid themselves again with the Model 59, unveiling the new and improved mower at the Farm Progress Show in Gibson City, Iowa.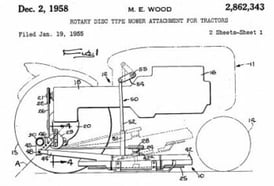 When they weren't releasing new products, the Wood brothers were filing for patents. They capped off the decade with a patent for a tractor-mounted rotary disc-type mower attachment in 1958 and another for an adjustable belt drive in 1959. The belt drive was designed for a drive system with a single belt running from a tractor's PTO shaft to all three spindles on a mower. It was just one more entry in what would become a series of patented designs by Mervel Wood.
SERVING THE COMMUNITY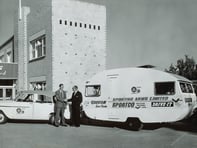 In order to maintain its presence in the hearts and minds of consumers, the Oregon® brand, now a division of Omark Industries, needed to stay true to its mission. That meant keeping an eye on the people and places that brought it to the forefront. So its team began looking for ways to not only sell products but to contribute to the industry and to the community as a whole.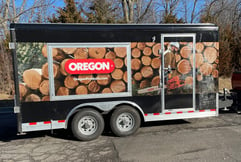 In 1956, the Oregon® brand launched its nationwide Task Force Service (TFS), an extensive dealer certification and field maintenance program headed by Sales Manager Gordon L. McDowell. TFS offered customers a chance to "Oregon-ize" their saw, which meant bringing their chainsaws in for maintenance by a highly qualified and authorized TFS Service Agent. The service covered chains, bars, and sprockets, with the goal of giving every customer maximum horsepower and an "extra-long" chain life. This was a boon to professionals, whose very livelihood now depended on the performance of their machines.
Programs like TFS planted the seeds of stewardship, of leading with humility and always keeping the customers' needs in mind, a brand value that has endured the decades and can be found in our service programs of today, like the Oregon® Disaster Response Trailer. It has also grown to include our ongoing support for reforestation efforts, both at home and abroad.
STARTING SMALL, SAFETY FIRST
Another way the Oregon® brand could serve the community was to make chainsaws a little less dangerous. In the late 1950s, chainsaws still hadn't been around for very long in their modern form. They needed to be wielded with precision, by a professional. Unfortunately, accidents were often part of the job. So before the decade came to a close, the Oregon® brand introduced the guard link chain, a saw chain designed to reduce kickback, specifically rotational kickback, which happens when a saw chain snags and the guide bar pops up unexpectedly.
Immediately, pulpwood producers started reporting fewer accidents, with many of them mandating the new chain. And as the product reached the wider market, chainsaw operators around the world found themselves benefiting from easier handling and a safer workplace. Guard links would eventually become a safety feature on a host of professional and non-professional models of saw chain, produced by other manufacturers as well.
LOOKING AHEAD
So we end this chapter of Oregon Tool, Inc. history much as we began it, with a single, innovative idea advancing the design of a much-needed product and thus making the lives of hardworking people around the world more productive, and now safer, than ever before.
In our next installment, we'll enter yet another action-packed period of change, as our brands build on their reputations and fight to stay at the forefront of an increasingly competitive market. And it wouldn't be the 1960s if it didn't come with a few surprises.